Future Mobile App Development Company in Hosur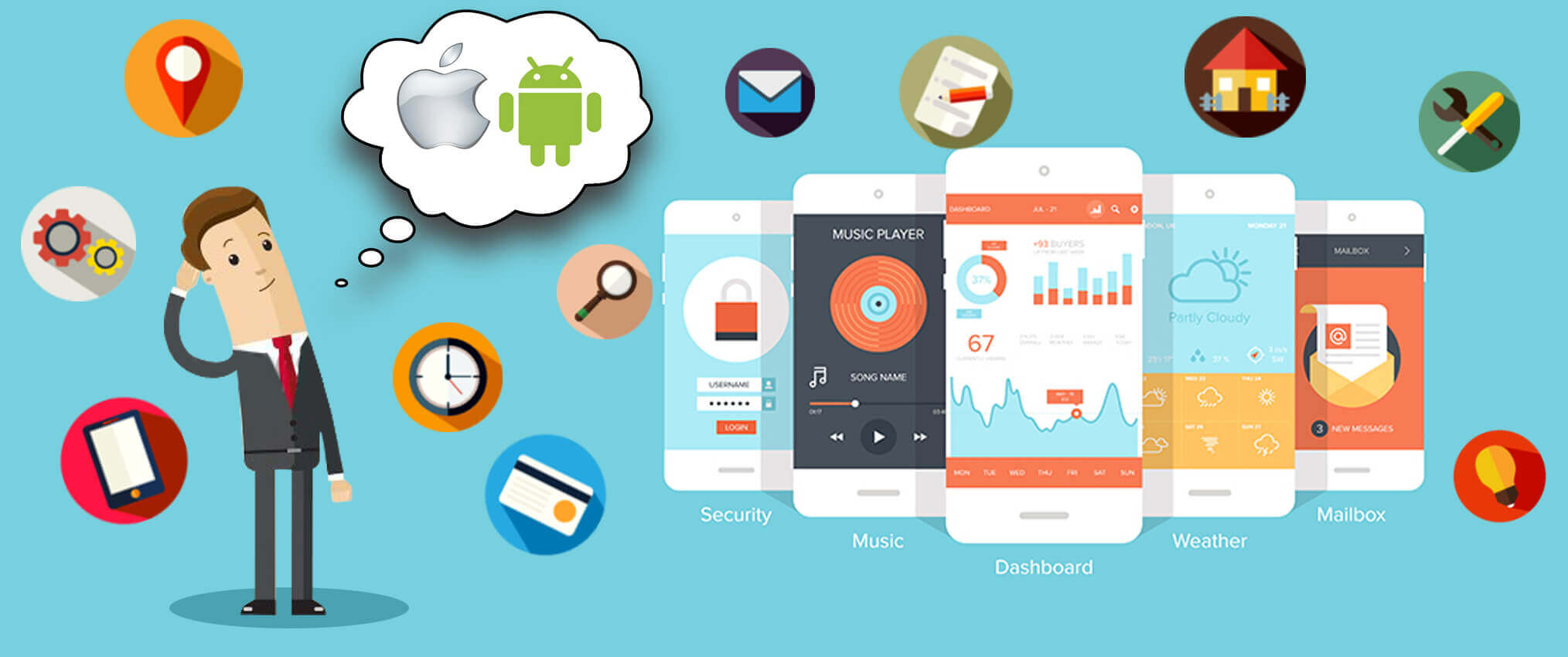 Hosur Technika team strength is mobile application development. We are the best mobile app development company in Hosur. We develop mobile apps for every possible client who has a demand of app for his business. "Apps for Everyone" is our goal for coming years. Mobile apps will solve client business process issues in many ways like if suppose a client has a marketing team which needs to visit its customer for some product sale. Hosur Technika is one of the earliest and leading Mobile Application Development Company that started making successful Android, Windows and IOS apps etc for your needs. We build app store noticeable, highly functional and performance-centric mobile apps for enterprise businesses. Being a professional mobile app builder in Hosur, we are going beyond websites and making an experience , rather than just launching.
Certain things that designer needs to know:
1. Match the keyboard with the required text inputs.
2. Gestures and Hardware.
3. Do not hide the password.
4. Show the enquiry field
5. Request permissions in-context.
6.Land them directly on the main screen.
7. Test your apps both In Landscape mode and portrait mode.
8.Make forms sweet and short.
why choose mobile app developments in hosur?
Hosur technika is one of the top most mobile app development company in hosur. Our company has in-house designers who promises to create amazing application development services. We provide promising services to each individual. Our company not only aims at delivery of work process we also aim at providing greater customer satisfaction.Passing on to the days , the scene has changed a great deal. Discovering individuals without a cell phone is hard. Particularly with the cell phones, individuals trap the world in their palm. There are numerous versatile applications for nearly everything. Although mobile apps have achieved an immersion point, a certifiable creator can in reality assemble a prominent application.
Our Stages of App Developments 1. Investigation
Our company in hosur have the best designers who believes at research work .This phase is essential because, during this phase, you lay down the necessary groundwork for what is to follow next. Do your bit of substantial research and brainstorming before moving on to the next phase. And another important part of this phase is analyzing the competition. A detailed study of your competitor's app will help you figure out what features are absent in their app so that you could include it in your app, to make it stand out.
2. Wireframe the App
When you're finished sketching, wireframing will help refine the thoughts and organize all segments of the design in the correct way. You can conquer any specialized restriction found in the backend improvement process in this underlying stage. our company in hosur aims to build up an unmistakable comprehension of how your proposed highlights and thoughts will intertwine into a practical application.
3. Technical Feasibility
You may have an unmistakable comprehension of the visuals at this point, however you likewise need to consider if the back-end frameworks will most likely help the application's usefulness. To know whether the possibility of your application is feasible in fact you have to gain admittance to open information by sourcing open APIs. An application, contingent upon its configuration (cell phone, tablet, wearables, and so forth.) just as the stage (iOS, Android, and so on.)will have diverse necessities. Our Development Company in Hosur may have diverse thoughts for the application or chose that a portion of the underlying usefulness isn't achievable.
4. Build Prototype
Along these build a rapid prototype, that gets the application idea into a client's hands as fast as conceivable to perceive how it functions for the most widely recognized use case. Our Company in Hosur Utilizes harsh and not thorough wireframes for this stage. We will enable you to check whether you are taking things the correct way.
5. Develop the App
The Development stage by and large begins very at an opportune time. Truth be told, when a thought increases some development in the theoretical stage, a working model is produced which approves usefulness, suppositions, and gives a comprehension of the extent of work.If yours is a complex project where client necessities change consistently, make utilization of spry system. Our Company in Hosur promises to assist with adaptable arranging, dynamic advancement, early organization and steady enhancements. An expansive application can be separated into littler modules, and light-footed philosophy can be connected to every one of these little parts.
6. Testing the App
In app developing, it's a smart thought to test early and often.Application testing is huge, so our company ensures and covers all the important aspects of it. The application ought to be tried for ease of use, similarity, security, interface checks, stress, and execution. In client acknowledgment testing you find whether your portable application works for your proposed clients or not. To test this give your application to a couple of individuals in your intended interest group and make relevant inquiries.
7. Launching the App
Once the application is ready to submit our Company in Hosur Picks multi day and key up a formal dispatch. For various application stores, the strategies of launching an application are unique. Also, remember, this isn't the end. Application development doesn't finish at dispatch. As your application gets in the hands of clients, input will pour in, and you should consolidate that feedback into future variants of the application. Each application will require refreshes and new highlights. Normally, when the primary variant of the application is discharged, the improvement cycle starts over again. Ensure you have the assets to keep up your item. Aside from the cash put resources into building an digital item.
Android
Hosur Technika is a renowned company in Hosur having proficient Android app developers that deliver exceptional Android apps. Our passionate team of Android app designers and Android app developers leverage latest Android technologies to develop cutting-edge Android app solutions that offer stunning designs and impeccable UX to Android end-users. Mobile App Development Company in Hosur is rated as top Android app development company in India for our outstanding performance in the Android app market space. We provide powered and outstanding Android application development services to our clients. Our expert Android app developers have strong command over Android programming which enable them to draw out exceptional mobile app We use latest version of Java to build apps with the Eclipse SDK. At Hosur Technika, our android app developers are proud to offering experienced development for Android apps. We have a comprehensive android portfolio under our belt. We have deployed android apps across major industries and app categories. When it comes to making an app, we believe that full customization is the key, not the exception.
Our Best-in-Class Services:
iOS
Hosur Technika is one of the premier iOS application Development Company based in Hosur, Tamil Nadu. We are a trusted gateway for your business to create iOS (iPad & iPhone) applications at an affordable cost to increase your business revenue. We have skilled, innovative & experienced iOS application developers and programmers. All of our iOS app developers are certified programmers in C, C++, Java, .Net and other languages. As they are well versatile in all the latest technologies, they are able to develop iOS applications as per the customer's requirements with high-quality UI (user interface) and UX (User Experience). Being one of the top iOS app development companies in Hosur, we develop iPhone and iPad apps with an intention to increase your business performance. Before developing an app, we conduct thorough research on your app objective, your competitors' apps analysis. That's why we are called as one of the best Mobile App Development Company in Hosur, Tamil Nadu.
Cross Platform Apps
Give your business a competitive edge with our top-notch cross-platform Mobile App Development company in Hosur. Our experienced app developers intuitively develop your mobile app that meets all the industry standards while running successfully across every mobile device irrespective of display size and platform. You can avail the latest trends in the mobile technology through our time-tested methodology in multi-platform app development. Our experienced and dedicated developers understand the value of your customized business app and bring forth the most useful solutions while facilitating key business processes. Hosur Technika is a top provider of Multi-Platform application development and cross-platform services in Hosur. apps development. Using Cross-platform mobile app development solution makes it easy to deploy and release updated versions of your app. Being the best cross-platform company in Hosur, we offer a highly flexible customer engagement model.
Swift
Swift is a powerful and intuitive programming language for macOS, iOS, watchOS, and tvOS. Writing Swift code is interactive and fun, the syntax is concise yet expressive, and Swift includes modern features developers love. Swift code is safe by design, yet also produces software that runs lightning-fast. Mobile App Development Company in Hosur will provide good Swift Programming Services.
Ionic
Ionic lets web developers build, test, deploy and monitor cross-platform apps easier than ever. Mobile App Development Company in Hosur has very good Web Developers. Those familiar with web development will find the structure of an Ionic app straightforward. At its core, it's just a web page running in a native app shell! That means we can use any kind of HTML, CSS, and Javascript we want. The bulk of an Ionic app will be written in HTML, Javascript, and CSS. Eager developers might also dig down into the native layer with custom Cordova plugins or native code, but it's not necessary to get a great app.
Xamarin
Xamarin provides a cross-platform development solution for mobile, tablet, and desktop applications. Mobile App Development Company in Hosur renders good Xamarin services. This section covers details that apply no matter which platforms you're targeting. Xamarin also recognizes that beyond the surface (user interface), apps have a lot of highly reusable components that can be shared across platforms. For example, your code for accessing Web services can be reused easily on the iOS and Android platforms.
React Native
We also build mobile apps using React Native, powered by React Framework. Mobile App Development Company in Hosur leverage the platform to build a rich mobile UI/UX. Hosur Technika is one of the best react native application development company in Hosur working dynamically on react native technology. We choose the framework because of the fact that it is the best cross-platform mobile app development framework and has a quicker turnaround time. With the help of React Native, we are able to develop and deliver apps quickly to our esteemed clients.